DIRECTOR OF OPERATIONS in Ghana
Jobs like this do not come around very often!
If you really want to make a measurable difference in the fight against poverty in remote rural villages in Africa this is the opportunity for you. We guarantee this role will test all your skills to their limits but will also be the most rewarding job you will ever have. You will lead, inspire and guide a young, dedicated, team of 10, mainly Ghanaian employees and up to 70 European, Australian and American volunteers per year. Do you have an energetic management style that will ensure our volunteers get the experience they are expecting. You will be responsible for project delivery of our water and sanitation, girl empowerment and educational construction projects.
If you're interested, send an email to the CEO neil@villagebyvillage.org.uk with:
● CV / resume
● Statement of experience and suitability
● Current location
● Nationality
● Instagram username
(If you feel happy to share, it will help us understand your SM experience and knowledge)
● Available starting date
Deadline for applications               12th February 2018
Date of 1st interview (Skype)            13th – 15th February 2018
Date of 2nd interview                  16th February – 3rd March 2018
Job offer by                         4th March 2018
Start Date                          Spring 2018 (Paid Training in Ghana)  
N.B. This role is suitable as a job share for a couple or can include a trailing spouse..
Downloadable: Job Description – Director of Operations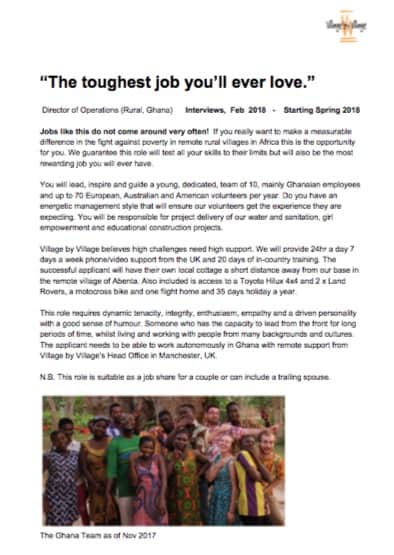 Village by Village believes high challenges need high support. We will provide 24hr a day 7 days a week phone/video support from the UK and 20 days of in-country training. The successful applicant will have their own local cottage a short distance away from our base in the remote village of Abenta. Also included is access to a Toyota Hilux 4×4 and 2 x Land Rovers, a motocross bike and one flight home and 35 days holiday a year.
This role requires dynamic tenacity, integrity, enthusiasm, empathy and a driven personality with a good sense of humour. Someone who has the capacity to lead from the front for long periods of time, whilst living and working with people from many backgrounds and cultures. The applicant needs to be able to work autonomously in Ghana with remote support from Village by Village's Head Office in Manchester, UK.
---